There are a lot of reasons why many luxury home buyers are moving to Nashville. The most obvious reason is that it's a unique and historic city with a lot of popular attractions, luxury properties, and exciting business opportunities.
Nashville is known as America's Music City. Many musicians, singers, and songwriters started their careers in Nashville and called the city home. Country music megastars like Dolly Parton and Hank Williams performed for thousands in the Ryman Auditorium. The city is also home to legendary music institutions like the Country Music Awards, Grand Ole Opry, and the Bluebird Cafe.
Nashville is the capital of Tennessee and is the most populated city in the state, with over 690,000 residents. Many young professionals flock to Nashville to pursue careers and settle down, in part because of the city's thriving job market, low unemployment rate, reasonable cost of living, and no state income tax. In fact, the city is one of the top 10 places to live, according to the Nashville Area Chamber of Commerce.
Nashville's real estate market remains as hot as ever following its record-breaking rise in the last couple of years. Its annual appreciation continues to reach record heights. In fact, according to real estate investment firm Norada, Nashville's homes are some of the fastest-selling ones across the US, making the city a prime location to purchase homes and investment properties.
Table of Contents
7 things to consider when moving to Nashville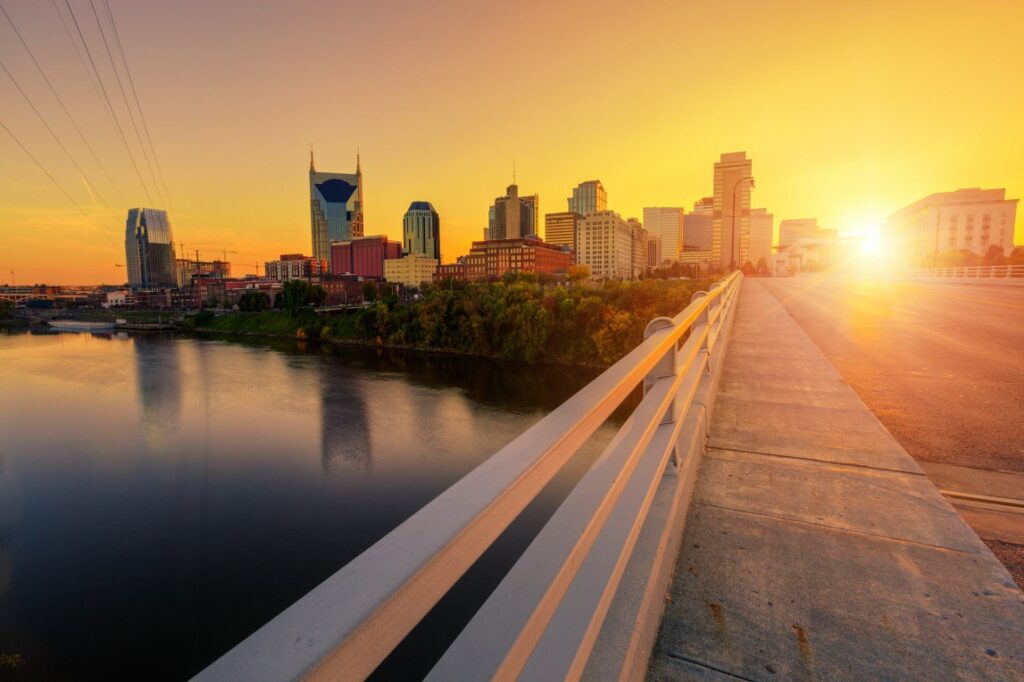 No matter where you're from or what you do in life, purchasing a home or any piece of real estate is life-changing and often stressful. If you're planning on moving to Nashville soon or in the future, there are a few things you should consider.
CONSIDER location and convenience

Location and accessibility are the most important things to consider whether you're moving to Nashville or anywhere else. If you're choosing which specific neighborhood of Nashville to settle in, you should factor in your proximity to shops, schools, and your commute time to work or school.

According to Movebuddha.com, Nashville ranks as the 31st most congested metropolitan area out of 100 in the United States. If you have a car, it's easy to drive to Downtown Nashville, since it has access to three major interstate systems, the I-40, I-65, and I-24. Nashville International Airport is also a 15-20 minute drive from Downtown.

CONSIDER neighborhoods

Nashville has 20 neighborhoods, each with its own vibe and culture. Below are some of the most popular neighborhoods for luxury homebuyers in Nashville:

CONSIDER Nashville's job market and business opportunities

Before moving to Nashville, you need to explore your employment and business options in the area. The pandemic dealt a huge blow to the country's economy, and Nashville wasn't spared. However, according to the Bureau of Labor Statistics' latest data, Nashville's job market and economy are recovering at a steady pace.

The primary industry in Nashville is healthcare, which constitutes over 9% of jobs in the city. Major employers include Bridgestone Americas, Asurion, Dollar General, and Vanguard Industries. Other major industries in the area include music, arts, tourism, and university education.

If you're looking for a business opportunity in Nashville, there are many high-tech companies being established or moving to the area. Compared to Silicon Valley, there's much less competition in the area, but the industry is large enough to provide plenty of job and networking opportunities.

CONSIDER schools

Nashville is home to many excellent schools, universities, and colleges. In fact, the city is often referred to as the "Athens of the South" because of its many educational institutions. If you have school-aged children, you'd be glad to know that the Williamson County School District has some of the best schools in the area. These top schools include Franklin High School, Freedom Intermediate School, and Clovercroft Elementary School.

As for tertiary education, there are many premier universities and colleges to choose from. Vanderbilt University is known for its law, engineering, and medical degree programs. Meanwhile, Belmont University has early childhood, music, and nursing programs. Aquinas College specializes in philosophy, theology, and history. Tennessee State University and Nashville State Community College have business information science and culinary arts programs as well. Lipscomb University and Fisk University are located in Nashville and offer great programs, too.

CONSIDER available properties

There are many types of properties in Nashville. You can find acreages, apartments, commercial and investment properties, condominiums, luxury homes, townhouses, and vacation homes. Whether you're looking for a home in gated communities or planning to build a new home, Michelle Maldonado and her team can help you find the best solutions to your Nashville real estate needs.

CONSIDER the culture

Many are drawn to Nashville because of its history and its key role in the American music industry. The city is home to the Country Music Hall of Fame and Museum, the Musicians Hall of Fame Museum, Music City Walk of Fame, and the Johnny Cash Museum.

There are also many spots where you can listen to live music and immerse yourself in country music history, such as the Bluebird Cafe and the Grand Ole Opry. The honky-tonk Highway is another great spot if you want to listen to live music while having drinks with friends. Popular honky-tonks include The Stage on Broadway, Robert's Western World, and the original, Layla's Honky-tonk.

CONSIDER attractions and amenities

Nashville has many other sights and attractions aside from its booming music scene. In fact, there are a lot of museums, parks, sports arenas, and tours you can visit while you're in the area.

The first thing you must see in Nashville is the full-scale replica of Greece's Parthenon. It's located in Nashville's Centennial Park and includes a 42-foot statue of Athena. The Parthenon now houses paintings from different American artists. You can also go on guided tours or pay to view the art exhibits.

You can spend time at the Adventure Science Center and watch planetarium shows and live science demonstrations with your family. Nashville Zoo and the Tennessee Railway Museums are also great destinations if you want to give your children a fun and educational trip. Nashville also has a Children's Theater that stages various shows for kids and the entire family.

Drop by the many sports facilities and stadiums in Nashville, including the Bridgestone Arena, which is home to the NHL's Nashville Predators, and the Nissan Stadium, the Tennessee Titan's home stadium. The city also has the Vanderbilt Stadium and the First Horizon Park. As for parks, you can choose to take a stroll in any of the city's 120 parks and greenways, including the Shelby Bottoms Greenway and Natural Area and Warner Park.
Luxury homes for sale in Nashville, TN
Location is everything, especially when you're buying a home. Many luxury properties in Nashville are located in high-end neighborhoods, premium highrises, and gated communities. These homes have different amenities and distinct architectural styles that make them stand out and increase their value.
5 most popular architectural styles in Nashville
Nashville is known for its large, historic homes with gorgeous architecture. Below are some of the most popular styles in Music City:
Georgian Revival
Georgian revival-style houses were popular in the early to mid-1900s due to their symmetrical and classic design. They're characterized by their heavy use of brick and stone for the interiors, large windows, and elaborate entrances. These homes are particularly sought after in Nashville.
Antebellum
Antebellum-style homes are known for their Greek-style pillars, ornate staircases and foyers, and balconies that run around the house. This style characterized many plantation homes in the Southern states before the Civil War.
American Farmhouse
This traditional style is a staple not just in Nashville, but all across America. American-style farmhouses are characterized by light-colored walls and exteriors, large porches, and distinct formal and informal areas.
Contemporary
Contemporary luxury homes are distinguished by their sharp lines, asymmetry, large windows, and eco-friendly amenities and features. Current models typically incorporate a lot of sustainable technology and elements and are designed to give owners more freedom to customize the space.
Mediterranean Revival
Mediterranean revival-style homes feature red roof tiles, stucco exteriors, outdoor living spaces, and well-manicured greenery inspired by picturesque Italian and Spanish villages.
5 most popular luxury home features and amenities in Nashville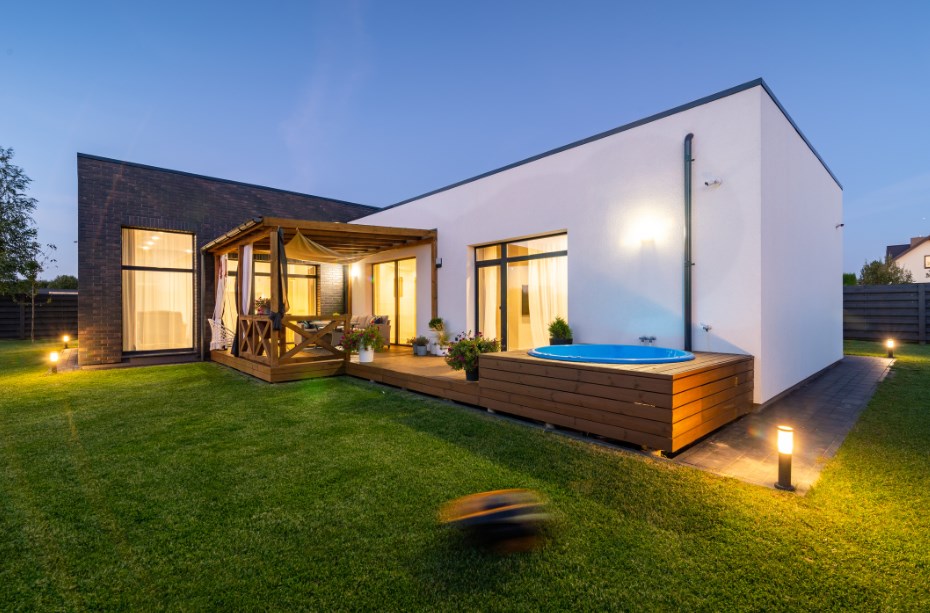 Different luxury properties will have different designs and amenities, depending on the original owner's wishes and the architect's plans. However, there are some popular features you can see in many luxury homes that are for sale in Nashville, Tennessee. These include:
Multifunctional spaces
Well-designed and carefully proportioned spaces with more privacy are quickly rising in popularity, according to Dwell.com. Hybrid and remote work set-ups will likely become a mainstay, so many homeowners are opting for multifunctional spaces to cater to both their work and personal needs. These convertible and flexible spaces are a departure from the open floor plan that dominated in recent years.
Sustainable design and furniture
Homes built sustainably are becoming more sought-after, according to Brick.com. Eco-friendly homes typically have lower maintenance costs and utility bills and provide owners with higher returns of investment. Sustainable homes are characterized by their natural construction materials (e.g., brick and stone), drought-resistant landscaping, and repurposed fixtures and furnishings.
Green technology
Mansion Global published a list of global luxury property trends to look out for in 2022 and one of the features they included is green technology. Green technology is fast evolving and is being utilized in more luxury properties today. Electric vehicle charging stations have become an essential part of parking areas and many high-rises are switching to solar or geothermal systems for power.

Expansive outdoor spaces and wellness facilities
Larger outdoor spaces are quickly becoming a popular and essential luxury home trend in 2022, according to Mansion Global. In fact, many luxury properties now include both active spaces (i.e., pools, fire pits, fitness facilities, and outdoor kitchens and entertaining areas) and meditation spaces in their outdoor layouts.
High-tech water and air filtration systems
The pandemic has transformed the way many people view health and wellness. Today, high-tech air and water filtration systems are becoming a standard feature in many luxury homes and high-rises.

Types of luxury homes in Nashville

While there are numerous property types available in Nashville, there are two main types of luxury homes in the area: condominiums and houses. Below are some of the luxury properties in Nashville that Michelle Maldonado and her team have recently sold:

Condos

You can find high-rise Nashville condominiums in highly urban neighborhoods, such as the Gulch, 12 South, Downtown, and Midtown. Condos are more affordable than single-family houses and have more inexpensive insurance rates. Luxury high-rise condos can also have world-class amenities and are closer to entertainment and business districts.

700 12th Ave S #1402
Nashville, TN 37212
Listing #8799391
$1,350,000
Sold

This gorgeous, remodeled penthouse along Broadway has breathtaking views of Midtown to Downtown. It includes three private terraces, a full gourmet kitchen, three parking spaces, and private storage.

900 20th Ave S #1201
Nashville, TN 37212
Listing #8721098
$1,390,000
Sold

This property is in the heart of Nashville's Music Row, an exciting and lively neighborhood that's a few minutes away from Vanderbilt University. The unit is adorned with Italian marble and includes a two-car parking space and storage.

Houses

Luxury homes in Nashville come in many different shapes and sizes. They're perfect for settling down and starting a family or for a comfortable retirement. Even though they're typically more expensive than condominium units, they're great investments. Browse houses for sale in the neighborhoods of 12 South, Belle Meade, Brentwood, East Nashville, and The Gulch.

5026 Franklin Pike
Nashville, TN 37220
Listing #2234092
$6,750,000
Sold

With a total area of 14,021 square feet, 5026 Franklin Pike is a breathtaking property in Nashville. This three-story house is located near Radnor Lake State Park, Vanderbilt Dyer Observatory, and the Historic House Museum. It includes an elevator, six bedrooms, five fireplaces, a pool, and a covered porch.

110 Lynnwood Terraces
Nashville, TN 37205
Listing #2300873
$2,945,000
Sold

This 4,075-square-foot home is in quiet and historic Belle Meade. It includes three fireplaces, several walk-in closets, top-of-the-line kitchen appliances, and a three-car garage.

FAQs: Real estate laws and statutes in Nashville


If you're planning on moving to Nashville, there are a few things you have to know about its real estate laws and regulations. Below are some frequently asked questions about the legal aspect of buying property in Nashville:

Q: Do I need to hire a real estate attorney in Tennessee?

Real estate lawyers, specifically title attorneys, are there to prepare and review purchase agreements, title documents, transfer documents, and other paperwork related to title work and closing a real estate purchase. They also coordinate with all parties involved in real estate closing to make sure that all issues are addressed properly and that the closing transaction will proceed smoothly.

In addition to assisting you in matters described above, the real estate lawyer you hire will be your advocate and protect your interests. If you don't already have a Tennessee-based title attorney, you may ask your real estate agent for recommendations.

Q: What are Tennessee's laws and regulations on real estate disclosures?

Tennessee is a full disclosure state, which means that sellers of residential properties are required by law to disclose all known material defects to the buyer before or when an offer is made.

Examples of these material defects include malfunctions in the floors, windows, central air conditioning, and electrical system. If the seller does not fully disclose these material defects, the buyer can terminate the contract before closing or sue the seller for damages suffered because of the defects. Collins Legal has a more in-depth explanation of Tennessee's real estate disclosure laws.

Q: What paperwork should I prepare for pre-closing and closing in Nashville?

Whether you're a buyer or a seller, there are documents you need to prepare for pre-closing. At this stage, here's a helpful list of the paperwork you need:
Completed and signed real estate sales contract (including addendums, disclosures, counteroffers, and compensation agreement)
Buyer and seller's marital status (spouses will need to sign)
Buyer's new lender contact information
Buyer's warranty
Homeowner's insurance contact information
Homeowners' association contact information
Payoff information for existing mortgages and liens, including loan number, social security number, and phone number
Any prior title insurance policy for reissue credit (10 years old or less)
Repair information
Termite letter and invoice
Probate estate information (if the seller is an Estate)
Trust agreement (if the property is in the name of a trust)
Meanwhile, on the day of closing, you will need:
Photo ID (e.g., state-issued driver's license, state-issued identification card, military ID, or US passport)
Form of payment to cover the real estate closing costs (e.g., cashier's check or wire transfer)
For more information on Tennessee's real estate laws and regulations, you can visit their real estate commission's webpage.
Navigating Nashville's real estate market with Michelle Maldonado
Starting a new chapter in life can be daunting, but with a dedicated team of talented professionals, moving to Nashville will be a breeze. With nearly 20 years of experience in real estate and several awards under her belt, Michelle Maldonado helps buyers find great homes and communities that fit their personality, lifestyle, and pace.
Michelle has been working closely with clients since 2005 and has completed nearly $200 million in transactions. She's known for her multi-armed marketing strategies and high-level marketing campaigns. Michelle has also been a Nashville resident for more than two decades, so she has first-hand knowledge of Nashville's unique and exciting neighborhoods.
If you're planning on moving to Nashville, visit Michelle Maldonado and her team's office at 3990 Hillsboro Pike Suite #320, Nashville, Tennessee 37215. You can also get in touch with Michelle by calling 615.200.0667 or by sending an email to michelle(at)mmintown(dotted)com.